Hong Kong Beertopia 22-23 September 2017
The perfect excuse for Beer lovers to hop to Hong Kong, the 6th Annual Beertopia offers the chance to sample over 500 different local, regional and international crafted beers in the premier location of Central Harbourfront. A great festival atmosphere - Beertopia is a great inclusion for Special Interest, Sports or MICE group programs to mix with Hong Kongers and enjoy live music, DJ's and lots of interactive games.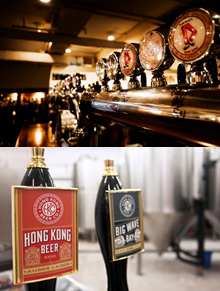 Contact Destination China to arrange the ultimate Beer Pairing experience at a number of gatropubs, such as The Globe, where Philip Hafstad, a certified cicerone, beer trainer and beer sommelier, advises, "Look at the intensity of the food and try to choose a beer with similar intensity level based on alcohol, bitterness, sweetness and so on. You don't want to pair a light Belgian witbier with smoky ribs, for example." Working with Executive Chef Patrick Barrett, The Globe team can create a tailor-made beer pairing menu.