China's International Airlines A Quality Revolution
The past decade has seen an unprecedented boom in the Chinese aviation industry. With the acquisition of state of the art aircraft from Airbus and Boeing and massive improvements in service delivery, Chinese International Carriers are not just meeting but exceeding the standards of their International competitors.
After quality, connectivity and cost are crucial elements in airline selection. China's major airlines are now "connected" to every corner of the globe. In addition, access is through some of the most modern and efficient airports in the world. Beijing, Shanghai, Chengdu & Guangzhou. With competitive group fares in Economy and in general a smaller price point difference between Economy and Business Class fares than on their international competitors, using a Chinese airline can afford you more budget flexibility. This leaves you with more to spend on your program elements in the destination consequently providing a better overall experience.
With international Quality, excellent Connectivity and competitive Pricing, you may want to consider one of China's airlines for your next group.

Hainan Airlines
With the acquisition of the Boeing 787 Dreamliner and being crowned a 5-star airline by Skytrax, Hainan Airlines is a leader in the China's commercial aviation industry. With direct flights to 143 destinations and a fleet of 173 state of the art aircraft with fully flat beds in Business Class, Hainan Airlines provides a seamless travel experience to China and offers a chance to enjoy classic Asian hospitality. The airline has direct long haul flights in and out of Beijing & Guangzhou.

Air China
Air China is usually the first airline that comes to mind when thinking of the Chinese Carriers. Air China has private suites in First Class, fully flat beds in Business Class and a fleet which includes state of the art 747-800's and 787 Dreamliner's. They boast an extensive network with direct flights to 211 cities worldwide. Air China's home base is Beijing and where most of its routes originate, though it has international routes that allow passengers to connect directly to Shanghai and Guangzhou.

China Eastern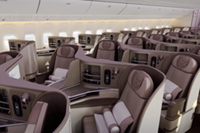 Based in Shanghai with an extensive Airbus A330 & 777-300ER fleet, China Eastern connect directly to 217 destinations worldwide. With 453 aircraft and 5 subsidiary airlines domestically their International reach and National connections are extensive. This international network is enhanced by their partnership with Skyteam which includes Air France, Delta and KLM.